Decorative stickers: where to start
Once you've decided to start planning and have chosen your planner, it's time to start thinking about decorative stickers. No longer just the symbol of a trip to the dentist or full marks on a test at school, stickers are the perfect way to elevate your planning game.
From to-do lists to key dates, holidays to shopping lists; stickers can be used for everything and anything when planning. A great way to put your own stamp on your planner, if you're serious about planning then you need to be serious about stickers.
What are decorative stickers?
Decorative stickers for planning come in all shapes and sizes and allow you to completely personalise your planner. Stickers, alongside stamps, doodling and even calligraphy, offer you full creative license for how your planner looks. If you don't want to simply write everything down, you can incorporate stickers instead.
Not only do stickers help to make your planner look great, they come with a whole host of practical benefits too.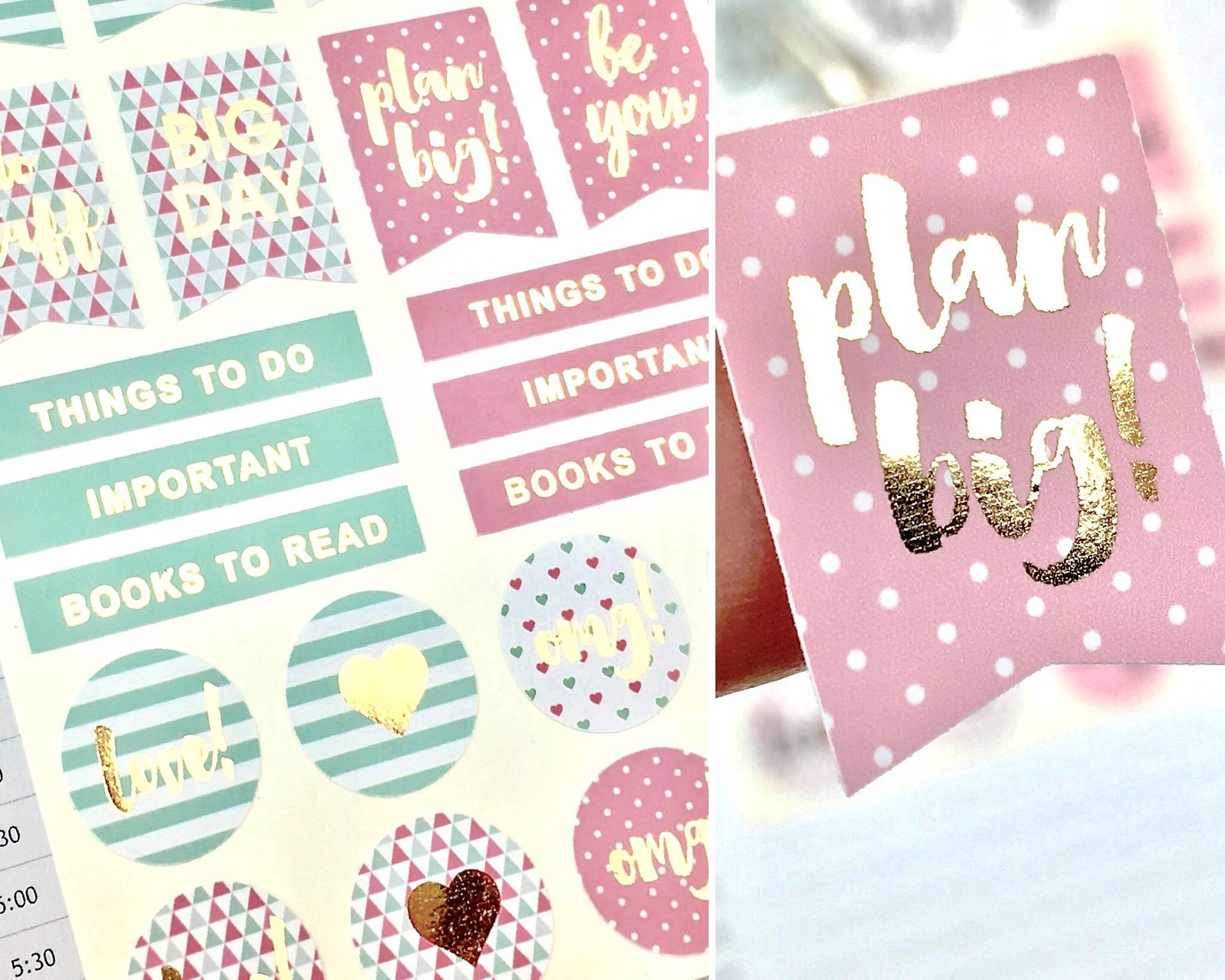 Help To Make Key Items
Stand Out
Got an important date that you need to remember? Or maybe you need to remember to make a phone call on a specific day? Stickers are a great way to make certain things on the page stand out so that every time you open your planner you're reminded of them.

Never forget a birthday or meeting ever again? Sounds good to us.


Keep Your
Planner Organised
If you want to make sure your planner stays organised (after all, that's kind of the point in having one) then stickers are ideal. Use them to categorise different sections, differentiate between days & tasks and keep a structure to your planner so that you always know where your notes are.


Allow You To
Create A Theme
Decorative stickers are a great way to create a theme within your planner. Whether you want to decorate it seasonally, with your favourite colours or with something different each month; stickers take your planner pages from drab to fab.
Believe it or not, stickers are a great way to save time when it comes to decorating and filling your planner. You can use phrase and quote stickers to prevent having to spend countless hours writing everything out.
And not to mention, fun decorative stickers are a great way to fill the page for doodlers who want to mix things up. Efficiency is the name of the game after all.
Not only are decorative stickers time savers, they're a great way to eek out every last inch of space within your planner too.

Writing everything out or filling the page with elaborate drawings and doodles can end up taking up so much room there's none left for the actual planning (we've all done it, let's be honest). Stickers allow you to create a theme and decorate whilst still leaving plenty of room for the information you *actually* need to note down.
Putting so much time and effort into making sure your planner looks nice is also a great way to ensure you stick to your planning routine and use your planner to its full capacity. Let's be honest, if your planner looks great, excites you and gets you motivated, you're much more likely to stick at it.
Variety is the spice of life after all. By keeping boredom at bay, you keep your productivity fires stoked.
How can I decorate my planner?
So you understand why you should be using decorative stickers in your planning, the question is, how do you use them? There are loads of ways to make your planner look amazing that also help you to use it as optimally as possible.
The first thing you need to do is figure out an organisation process that works for you. Do you want to display your planner daily, weekly or monthly? Do you want to highlight key dates, have a designated section for your to-do-lists or even leave future you little notes?
Whatever you think will work best can be achieved with the help of some decorative stickers. There's loads of inspiration online to get you started, but making sure you organise your planner in a way that suits your personal needs is essential. So once you've figured this out, how should you use your decorative stickers?
Colour coding your planner is a great way to keep it organised whilst keeping on top of your aesthetic A-game. Use different coloured stickers for different days or weeks, or categorise each element of your planning.
Be it to-do lists, key dates, things to remember, shopping lists - everything can be filtered into different colours so you can easily identify what's what the minute you open up your planner.
Seasonal themes are one of the most popular ways to decorate planners and decorative stickers are the ideal way to make your planner pages holiday-appropriate.
From adding trees, presents alongside festive reds and greens during the christmas months, to opting for a beach theme during the summer, creating different seasonal themes with the help of stickers is a great way to keep planning fresh and exciting.
Key Events And Things To Remember
Whilst you can make use of decorative stickers across your planner pages to make them stand out and look great, some people opt to just use stickers for the key things they need to remember.
Stickers can be used to highlight a key date in the week so that it stands out from the rest, or to flag up the most important tasks on your to-do list. Whilst decorative stickers can be used to jazz up your planner pages, they're also perfect to keep you organised and on track.
It doesn't matter if you're extravagant and colourful or if you're a monochrome minimalist, there's stickers to help you remember everything and anything.
Decorative stickers are as much an essential in planning as a notebook and pen. They are the little tools that compliment your process, allowing you to reach planner peace with ease.
So...what are you waiting for?
Get choosing your decorative stickers now and take your planning to the next level!
0 comments